C Control Bi-directional Swing Arm Barrier with Programmable Devices for Bicycle Passage
Certification: CE
Model No:WQ-SW/S/301
Features&Benefits
Technical parameters
Details Image
Inquiry
Detailed Product Description
IC Control Bi-directional Swing Arm Barrier with Programmable Devices for Bicycle Passage
Description:
1, Problem-self-test and alarm function, user-friendly maintenance and use ;With automatic reset function, gate opening, after a specified period of time does not pass, the system will automatically cancel the user's current access permissions; Auto-reset delay, the standard is turned on automatically reset after 10 seconds
2, Through the main control on the half-built small-press plate, programmable devices running status
3, When valid card read and passenger passed, arm can be delayed to close from 1-10s which can be set on the control panel.
4, One-directional, bi-directional function, One-directional, or bi-directional control personnel access to
5, Auto-reposition function: After card read, passenger not pass within regulated time period, swing gate will cancel this passing right. And the regulated time period for passing can be set by managers.
6, If passenger pass without card read or valid card read, flap barrier will alarm until passenger get back from the flap barrier and then take a valid card to be read for passing.
7, Erosion control features, in the absence of gate opening signal is received, the arm automatically locked
8, Anti-rush function: if there is no open single, arm will be holding tightly.
9, Adjustable arm swing synchronized (for the double pendulum case)
10, Adjustable normally open or closed, in order to meet the requirements of the different venues
11, Connecting with a variety of reading devices can be linked to the work of receiving the signal relay switch
12, Swing gate is with 485 interface for long-distance control concern and the integration of various readers and writers.
Managing computer directly through the remote control and management
13, Auto power-off arm laid them out, power-on self-closing, meet fire safety requirements
14, Double anti-clipping function: photocell anti-clipping and mechanical anti-clipping.
When passenger is going through the swing barrier, photocell will detect out this situation and will not close. After passenger passed, arm will close automatically. During its reposition, if arm meets any obstacle, arm will get back automatically or stop working for a while with very slight force. Also it will alarm.
15, Direction display to guide passenger which direction is to go.
16, Card-reading with memory or without memory function.
17, Swing barrier can control the population inside in the control of software.
18, Stable running with little noise.
Applications:
Swing gate applies for one direction or bi-directional entry and exit passage.
◇Bus station, yard, tourism entry and exit passage
◇Community, factory, company attendance, door access management
◇Special Passage
◇bicycle, motorcycle, disabled passage
Specifications:
Name
Swing gate
Model
WQ-SW/S/301
Housing Size
330x415x980mm
Power supply voltage
AC220V±10V, 50±10HZ
Net Weight
35kg
Working temperature
-25℃–+60℃
Gross Weight
45kg
Relative humidity
≤90% non-condensing
Drive current
≥10mA
Drive motor
DC motor 200w 24v
Time for swing open
and closed
1-2S
Control type
IC/ID/Barcode control
accepted
Passing time
3S
Communication distance
≤1200m
Time for auto-reset
10S
Swing angle
0-180
swing width
600-900mm
Max channel width
600-900mm
Communication Interface
RS485/RS232
Working environment
indoor or outdoor

(with a tent over)

Machine center
imported Germanic
technological motor
Working mode
one directional or
bi-directional optional
Housing Material
202 or 304 grade stainless steel optional
Passing speed
40persons/min(normal open mode)
30persons/min(normal
closed mode)
Competitive Advantage:
1.1.5mm thickness 304 stainless steel
2. RFID card (IC/ID), Barcode, fingerprint, control accepted
3. CE and ISO 9001-2008 certified
4. OEM and ODM are welcome.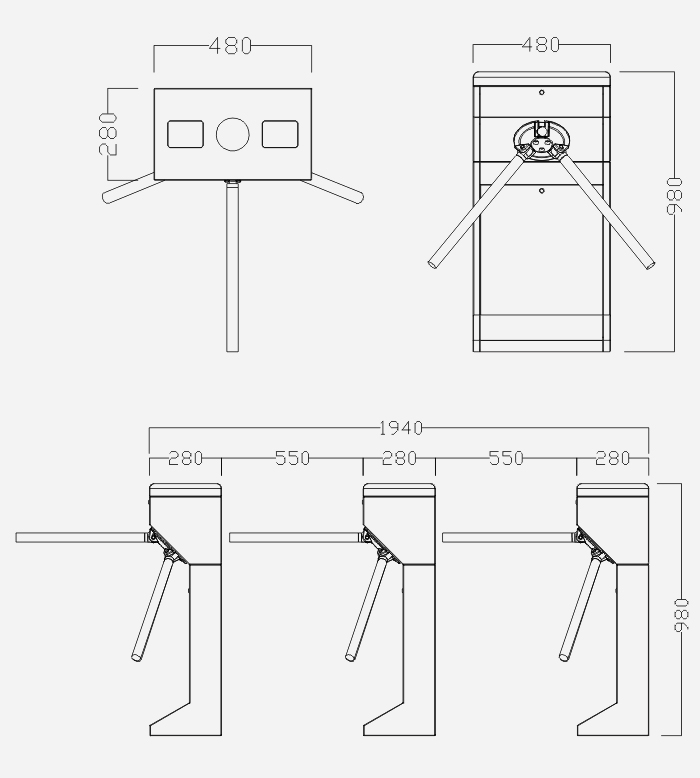 YL121
1.Size: 480x280x980mm
2.Unlock time: 0.2s
3.Pass rate: 35 person/min
4.Pass width: ≤550mm
5.Input: 100V~240V
6.Motor voltage: 24v
7.Environment: -25~+70
8.Power cunsumption: 30w
All turnstile models are space efficient security barriers, with a compact design,yet offer sufficient space to integrate any access control system. They can be mounted with display, passage counter, card reader, token operation traffic lights, command console,alarm system against unauthorized entries,The unique dropping arm feature provides a fail safety solution in case of an emergency or power failure,Tproviding egress in case of crisis evacuations. Durability with minimal maintenance means years and millions of trouble free passages. The turnstile creates a secure environment in. for example, a reception area. Our turnstile are used in different applications including stadiums and arenas, perimeter and interior security, recreation and amusement parks, retail crowd control, transit fare collection and lobby access control..

Application


●Shopping Mall
●Office Building
●Residential Community
●Factory
●Gym/Stadium