Model :WQ-DHD2
Automatic Car Barrier Gate
"Supply,Insttation,testing & Commissioning of Barrier for Car entry/exit with card system as per follwing technical features:"Motor:90w Material:2mm cold-rolled steel plate
Features&Benefits
Technical parameters
Details Image
Inquiry
Details :
Barriers are automatic traffic stopping
equipment's that apply to server control
technology and digital whole circuit contactless
logic circuit technology.
Applications:
Control and management of parking lots, toll gates, goods yards, railway crossings, highway toll station, commercial premises, and apartment block access etc.
Specifications:
Material :2mm cold-rolled steel plate
Arm Material : aluminum alloy
Arm type : Straight arm / Fold arm
Arm length : ≤ 6m
Arm Rail up or down time : 4-6s
Power : Turbine vortex pole motor 90W
Housing color keeping : 3-5 years
Voltage :110V~220V/50Hz~60Hz
Working temperature :-40℃~80℃
Working humidity : ≤95%
Control panel connector : traffic light connector, pressure wave connector, 485/422 connector.
Anti-crash function protect the car not damaged by the arm.
Protection grade : IP65
Dimension : 360⨯300⨯1060mm
Net weight : 49KG
l Material:1.8mm cold-rolled steel plate
l Arm Material : aluminum alloy
l Arm type: fold arm
l Arm length ≤ 5m
l Arm Rail up or down time:4-6s
l Power: Turbine vortex pole motor 80W
l Housing color keeping : 3-5 years
l Voltage:110V~220V/50Hz~60Hz
l Working temperature:-45℃~80℃
l Control panel connector : traffic light connector, pressure wave connector, 485/422 connector.
l Anti-crash function protect the car not damaged by the arm.
l Protection grade:IP65
l Dimension:345*295*1000mm
l Net weight:49KG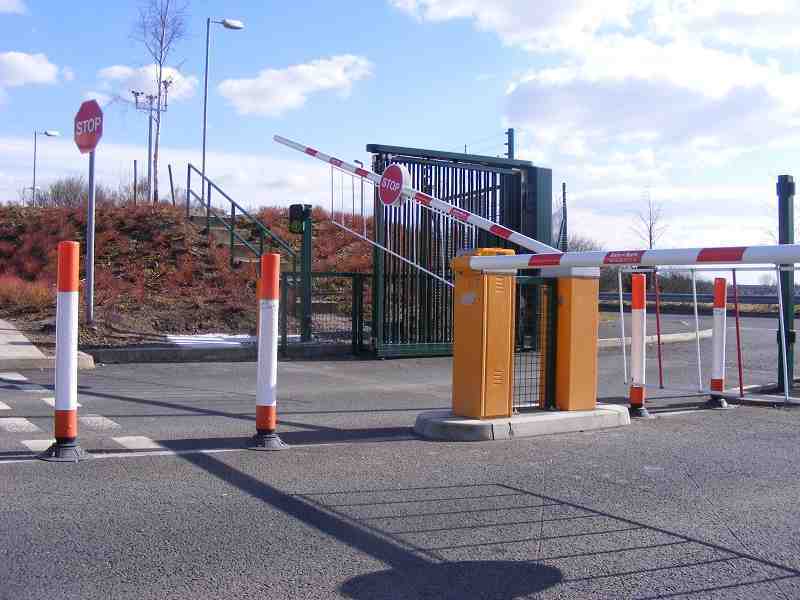 Security Matters
One of the principal benefits associated with automatic barrier systems is the tried and tested results they offer for security purposes. Where access to any area needs to be restricted to keep people and infrastructure safe, an automatic barrier is an ideal product. Given that it forces any person in a vehicle to stop before entering or exiting, security checks can be carried out in person or remotely, via CCTV.
Many barriers are fitted with equipment which only allows people with a code or a pass card to enter. Indeed, the sight of an automatic barrier is often enough to ensure that property is not targeted by individuals for theft, terrorism or mere anti-social behaviour because they cannot get in. Not only do barriers of this type keep access areas secure, they offer employees and other authorised personnel who are allowed through a real sense of security and safety.
Traffic Control
Automatic barrier systems are superb at allowing remote control of traffic, a particularly acute issue at times when road usage is high. If you need to restrict the numbers of slow-moving cars and goods vehicles passing through an access point to a major road where traffic is flowing fast, for example, then barriers which only allow a few to proceed at a time can be invaluable.
Equally, if multiple lanes of traffic need to zip down into one, perhaps to access a car park, then the traffic control functions of barriers provide a similar level of help. Essentially, they can be programmed to work in unison so that only one vehicle is able to pass through at a time, thereby helping to prevent collisions. This type of control system may often be installed alongside traffic lights, depending on the exact requirement.
Parking Control
As mentioned, automatic barrier systems restrict access to authorised persons only which has a security benefit. Another advantage of this approach is that barriers are able to prevent unwarranted access by people who want to use your car parking facilities without being authorised to do so. Of course, many public car parks require drivers to 'pay and display', but this is often abused by people who are 'just popping in'.
With the addition of an automatic barrier system motorists who previously used private car parks for their own purposes can no longer do so. Furthermore, authorised people are able to find places to park more easily. This means that the other option, that of employing parking attendants who will need to patrol the entire parking area regularly, is avoided. Ultimately, this means the elimination of significant onward costs at a stroke.
Flexibility
Automatic barrier systems are extremely versatile and can be programmed to suit individual needs. Therefore, all sorts of projects can benefit from them being installed. They are not simply for public car parks but can be of benefit to private landowners and businesses of many kinds. An automated barrier might be used, for example, to allow access to a private track or driveway when vehicles are authorised to pass but prevent unwarranted access from others. Private roads which should only have residents able to enter and leave can equally benefit from their installation. Visitors can be provided with a temporary access code, if needed.
License plate reading technology is another key consideration. If you have a car park where parking is free for a limited period, for instance, then being able to read registration numbers as vehicles enter and leave is essential to managing the service. Automated barriers force cars to stop so that their licenses can be read by this technology properly and prevent drivers from leaving if they have outstayed their welcome. They can also be fully integrated with parking pay machines which take card and cash transactions, too.
Finally, it is worth mentioning that modern automated barriers can be integrated with a traffic flow system which is perfect when barriers are being installed for the purposes of safety. They can allow more cars to pass at times of light traffic and fewer when to do so may be unsafe. All or some of these technologies can be used together to provide the ultimate in access control.
Application


●Shopping Mall
●Office Building
●Residential Community
●Factory
●Gym/Stadium