Full height turnstile G538-2 Oem Service Turnstile Motor used for with 304 stainless steel and fingerprint scanner
This Automatic intelligent full height turnstile is designed to provide unsupervised access control for office or building. The impenetrable construction eliminates any unauthorized access to restricted areas. To gain authorized passage through the the user must present a valid card for the access control system. Upon presentation of the valid card. It will unlock and allow the user to pass through the direction requested. The turnstile can also work with push button, finger print and face recognition access control system.
Features&Benefits
Technical parameters
Details Image
Inquiry
Features and Benefits
1. Pass prompt, booster rotation
2. Mooth running and no noise
3. Free passing setting
4. Buffering and anti collision, anti reverse passing,Anti-follow, auto reset function.
5. Uni-directional and Bi-directional pass modes for optional
6. Adopt optical working principle. Absolutely assure one card for one passing.
7. Full height Turnstile with failure self-checking and alarm functions.so it is convenient operation and maintenance.
8. Can be connected with any control device and receive the output control signal ,can be controlled by external button or remote control.
9. Door opens automatically when power off to meet the fire safety management
10. Memory function:accurate signal memory, continuous to receive many times the legitimate signal, door will automatic reset after the last man passed, greatly improve the speed of passing.
11. Normal open and normal close, automatic revolving door can be also controlled via external button.
OPERATING MODES
• Single passage in the set direction
• Bi-directional single passage
• Free passage in the set direction
• Always free or locked
MATERIALS
• Housing: In stainless steel AISI 304 or AISI316.
• Barrier arm- stainless steel bar.
| | | |
| --- | --- | --- |
| Technical Data | Unit | G538-2 |
| Passage width | mm | <650 |
| Throughput rate | p/m | 30 |
| Power supply | V(ac) | 100-240 |
| Operational voltage | V(dc) | 24 |
| Max power consumption | w | 30 |
| Frequency | hz | 50-60 |
| prectection level | ip | >44 |
| Working temperature | degree | -25 to +70 |
| Dimension excluding bars | mm | 2100X1500X2350 |
| Net weight including bars | Kg | 240 |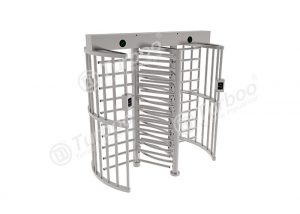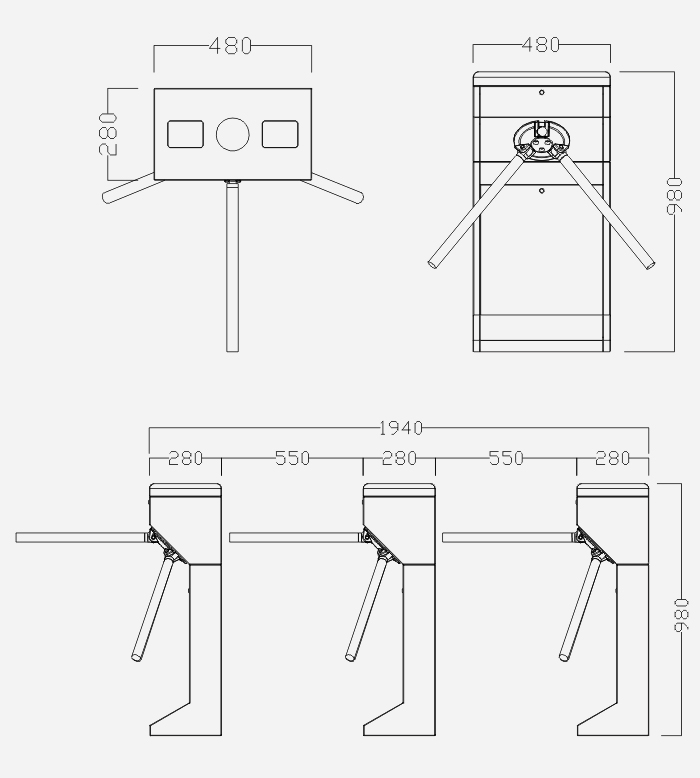 YL121
1.Size: 480x280x980mm
2.Unlock time: 0.2s
3.Pass rate: 35 person/min
4.Pass width: ≤550mm
5.Input: 100V~240V
6.Motor voltage: 24v
7.Environment: -25~+70
8.Power cunsumption: 30w
All turnstile models are space efficient security barriers, with a compact design,yet offer sufficient space to integrate any access control system. They can be mounted with display, passage counter, card reader, token operation traffic lights, command console,alarm system against unauthorized entries,The unique dropping arm feature provides a fail safety solution in case of an emergency or power failure,Tproviding egress in case of crisis evacuations. Durability with minimal maintenance means years and millions of trouble free passages. The turnstile creates a secure environment in. for example, a reception area. Our turnstile are used in different applications including stadiums and arenas, perimeter and interior security, recreation and amusement parks, retail crowd control, transit fare collection and lobby access control..

Application


●Shopping Mall
●Office Building
●Residential Community
●Factory
●Gym/Stadium