Brand : VARITO
Model : VR-J1715
Origin: Germany
Manufacture in China
Retractable Gate
Stainless Steel
---
The retractable stainless steel automatic gate is with advanced and powerful motor. It's for long time service without any structure or mechanical problem. The automatic gate is widely applied to factory, school, government, hotel, hospital, airport, railway station
FEATURES
Gate Width: 680mm
Wheel Base: 600mm
Pillar Distance: 350mm
Pillar Materials: Ø51×0.8mm
Stainless Steel materials (SS201# or SS304#): high hardness and tensile strength
Motor overheat protection: auto power of if the motor upto 120°C and re-working once temperature
turn low
Wheels: made by casting aluminium and special rubber, 2000000 times tested without abrasion
Anti-wind hooks: prevent the gate overturn by strong wind
Anti-bumping sensor: any obstacle during closing process, the gate will auto stop at 30-40cm away to
avoid collision
Anti-climb-over alarm: alarming once anybody climbing over gate
Caution light: it will twinkle during gate sliding
Speed clutch: rotate the clutch to switch electric control or manual control
Wireless remote control: with maximum 50m eective distance
Gate sliding speed: around 18m/min
Standard equipped 8bits static screen or optional 500bits rolling screen
Gate Length and Height can be customized
DIY installation, easy operation and maintenance
DESCRIPTION
The retractable sliding gate adopts SUS201/SUS304 stainless steel
materials for high hardness and tensile strength.
Gate motor overheat protection, auto enter into protection status
if the motor temperature upto 120 degree Celsius and re-working
once temperature turn low.
Gate wheel has been made of casting aluminium hub and special
rubber tire, 2000000 times sliding without abrasion.
With special anti-wind hooks for preventing the automatic
collapsible main door overturn even strong wind happened.
With infrared anti-bump sensor: Any obstacle sensed on the route
during gate closing process, it will automatically stop at 30–40cm
away or fold back to avoid collision.
With speed clutch: rotate the clutch to switch automatic control
or manual control.
Wireless remote control with maximum 50m distance withour any
obstacles.
Gate sliding speed is around 18 meter per minute.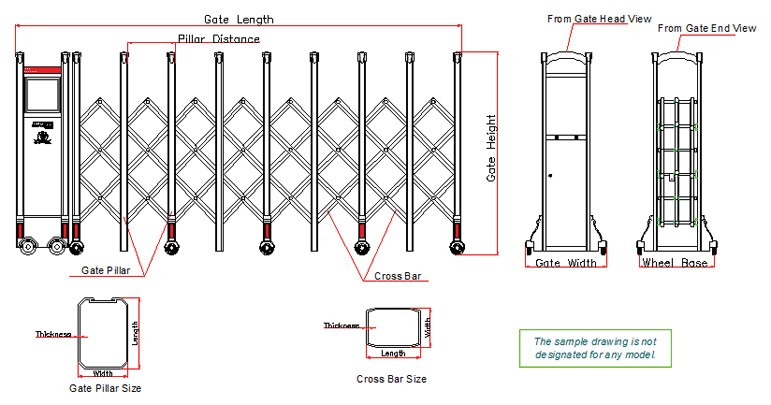 Specification:
Gate Length : 18 Feet Gate Height : 4 Feet Gate Width : 680mm Wheel Base : 600mm Pillar Distance : 350mm Pillar Materials : Ø51×0.8mm Cross Parts Materials : Ø51×0.6mm Automatic / Manual Control : Both Surface Treatment : Polished finishing Sliding Speed : 18m/min Remote Control Distance : No more than 50m Language : English

 Parameter
Power Voltage : AC220V±10% / AC110V±10% Power Consumption : 300W / 370W / 740W Power Current : 1.8A / 3.5A Motor Overheat Protection : 120°C Motor Output Speed : n=45rpm Gate Sliding Speed : 18m/min Remote Frequency : 433Hz Remote Control Distance : No more than 50m Working Temperature : -35°C to +55°C