The hosing of wing gate turnstile CPW-331TA is made of good quality stainless steel, that is durable; With industry leading mechanical structure created by CMOLO and advanced servo control system and DSP+ARM motor control technology, the turnstile can work quickly & stably and validate accurately.
Features&Benefits
Product Description
Product Parameters
Product Functions
Intelligent wing gate turnstile CPW-331TBS is with circular arc structure, which is in beautiful shape and pursuits the perfect unit of art, fashion and safety; the housing made of stainless steel is durable; the mechanism modules are imported from international top brands DC brushless motors and precise positioning encoders, so as to ensure wings gate can move quickly and accurately, stably and quietly, with low-power consumption, energy conservation and environment protection.
Feature
Use DC brushless motor and encoder instead of servo motor to achieve driving and precise positioning function, to ensure that gate can move quickly & accurately and reduce mechanical fatigue of mechanism effectively.
By using 10 pairs of military level high-performance infrared sensors and exact algorithms, it can accurately detect the pedestrian's passing position to achieve the purposes such as anti-tailgating, anti-reverse passing, anti-clamping and so on.
Adopt multiple anti-clamping designs, such as infrared anti-clamping, machinery anti-clamping and advanced electric current detection anti-collision in turnstile industry, to maximally protect the personal safety of pedestrians.
Equipped with the dry contact signal input interface, RS485/RS232 interface, TCP/IP interface (optional), compatible with all kinds of access controllers.
Occasion Applications
Suitable for commercial buildings, subways, airports, customs, exhibition halls, government buildings financial institutions, clubs and other high-end indoor applications.
Housing material 304 grade stainless steel Surface treatment Baking finish wing gate material Organic glass Technical Parameters Normal throughput capacity 30 ~ 45 people / min(according to the condition of pedestrians) Evacuation throughput capacity 60 people/min(according to the condition of pedestrians) Opening speed 0.3-0.6s Operation temperature ﹣20℃~60℃ Electric Parameters Power supply 100-240VAC,50/60Hz Rated power 100W Input/ Output signal 12-channel relay signal output / 8-channel dry contact signal input Communication interface RS485 / RS232;TCP/IP interface Driving motor DC brushless motor Positioning method Use the encoder to position the wing gate accurately Method of motor control Use high-performance DSP chip
Dimension Figure(Unit:mm)

Basic Function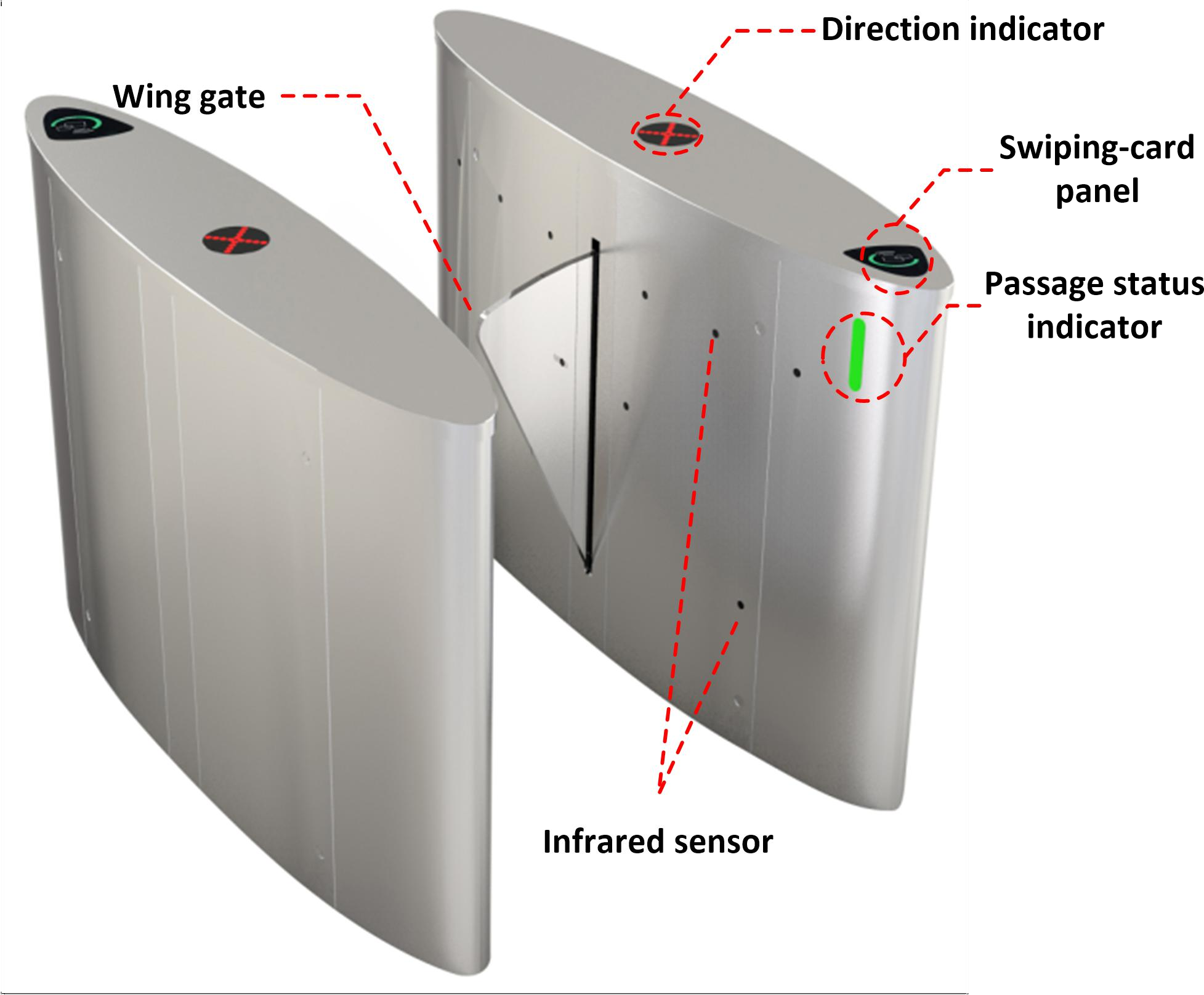 Passing mode switching function:The entry and exit can be set independently (controlled mode) / ( free mode ) / ( forbidden mode)
Automatic reset function: The turnstile will open the wing gates after receiving the valid opening signal when standby. The wing gates will return to the hindered zero position automatically under the following situations: (1) Within the allowed time, pedestrians have been detected to pass through the passageway in specified direction; (2) Beyond the allowed time, there is no people passing through the passageway.
Self-recovery function: The wing gates do not return to the hindered zero position because of human intervention. After revoking human intervention, wing gates will return to the hindered zero position automatically.
Automatic adjustment function: When the turnstiles need to readjust because of mechanical wear, the main control board can adjust automatically, accurately and conveniently.
Memory function of passing requests: When more than 2 passing signals are given at the same time (including the same direction and opposite direction), the system will remember all the passing requests and finish them one by one. The number can be up to 255.
Passing indication function: (1) The direction indicator: It is installed on the top of the housing cabinet to indicate the valid passing direction.