Nice barriers are designed to professionally control every type of access: car parks, shopping centres, hotels, hospitals, exhibition centres, amusement parks, airports and railway stations, as well as all other types of small or large public facility.r
Features&Benefits
Technical parameters
Details Image
Inquiry
About automatic barrier Gate
Product Description
1).Intelligent:Auto-detects opening and closing position in high accuracy by both mechanical and electrical limit detector.Combination of special inner working design and smart motor ensures swift and smooth arm movement in falling and lifting to reduce bouching.
2).Durable:Extension spring is more durable than compressed spring in heavy-duty site where barrier gate will open and close continously.AC motor can support long-lasting working of barrier gates.Cooling Fan processor is for decreasing working temperature.
3).Secure:Arm will be self-locked in any position to avoid unauthorized person to manually operate arm.
4).Safe:Arm will reversed back when it meets any obstacle in its movement.Optional rubber arm can avoid any damage when arm touches anything.Additonal photobeam further ensures safety.
5).Nice-looking:2.5mm thickness mild steel for housing,good polishing and finishing and further with plastic color coating 10 colors are available.
6).User friendly:Interfaces for photocell,loop detector,arm light,ect are reserved.No need to change spring if arm is changed(Eg.Arm is changed from 3m to 6m,the same spring can support.)
Functions & Features
1). Wheel manual release. In case of power off, rotate the wheel manual release on the bottom of the motor to raise the boom manually. When power on, the motor will work normally.
2). Machine core with strong and double springs, make the machine core works more steadily.
3). Die-casting aluminum alloy motor, precise and good at thermal radiation.
4). Crank and rod structure makes the boom run placidly.
5).Double safety limit switches (photo electricity limit switch and motor memory sensor).
6). Reversing on obstacle.
7). Auto-closing.
8). Support the infrared photocell for antibumping function (optional).
9). Support loop detector (optional).
10). R&G light interface (AC220V, can support lamp with 40W).
11). Wire control (switch signal)/Remote control (418MHZ).
12). Digital limit, more precise.
13). Open, close control interface for parking system.
14). Provide limit state signal to parking system.
Technical Data
Model (WJDZ)

801J-13
801J-16
801J-23
801J-26
801J-33
801J-36
801J-46
801J-56
Speed
3s
6s
3s
6s
3s
6s
6s
6s
Arm Type
Straight

(Telescopic arm is optional)

90° folding
180° folding
2 fencing
3 fencing
Max Arm Length
4.5m
6m
3m
5m
3m
5m
4m
3.5m
Arm Dimension
45*100mm
Voltage
AC220V±10%, AC110V±10%
Frequency
50/60HZ
Power Consumption
200W
Humidity
≤90%
Working Temperature
-35°C∼+60°C
Housing Dimension

(W*D*H)

335*285*925mm
Enclosure Rating
IP54
MTBF
2500000 times
Net Weight
40KGS
Gross Weight
45KGS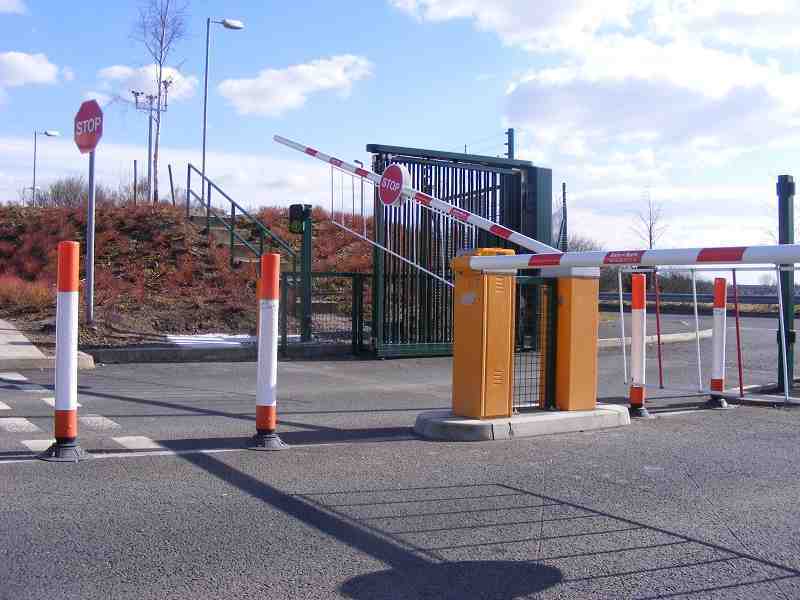 Security Matters
One of the principal benefits associated with automatic barrier systems is the tried and tested results they offer for security purposes. Where access to any area needs to be restricted to keep people and infrastructure safe, an automatic barrier is an ideal product. Given that it forces any person in a vehicle to stop before entering or exiting, security checks can be carried out in person or remotely, via CCTV.
Many barriers are fitted with equipment which only allows people with a code or a pass card to enter. Indeed, the sight of an automatic barrier is often enough to ensure that property is not targeted by individuals for theft, terrorism or mere anti-social behaviour because they cannot get in. Not only do barriers of this type keep access areas secure, they offer employees and other authorised personnel who are allowed through a real sense of security and safety.
Traffic Control
Automatic barrier systems are superb at allowing remote control of traffic, a particularly acute issue at times when road usage is high. If you need to restrict the numbers of slow-moving cars and goods vehicles passing through an access point to a major road where traffic is flowing fast, for example, then barriers which only allow a few to proceed at a time can be invaluable.
Equally, if multiple lanes of traffic need to zip down into one, perhaps to access a car park, then the traffic control functions of barriers provide a similar level of help. Essentially, they can be programmed to work in unison so that only one vehicle is able to pass through at a time, thereby helping to prevent collisions. This type of control system may often be installed alongside traffic lights, depending on the exact requirement.
Parking Control
As mentioned, automatic barrier systems restrict access to authorised persons only which has a security benefit. Another advantage of this approach is that barriers are able to prevent unwarranted access by people who want to use your car parking facilities without being authorised to do so. Of course, many public car parks require drivers to 'pay and display', but this is often abused by people who are 'just popping in'.
With the addition of an automatic barrier system motorists who previously used private car parks for their own purposes can no longer do so. Furthermore, authorised people are able to find places to park more easily. This means that the other option, that of employing parking attendants who will need to patrol the entire parking area regularly, is avoided. Ultimately, this means the elimination of significant onward costs at a stroke.
Flexibility
Automatic barrier systems are extremely versatile and can be programmed to suit individual needs. Therefore, all sorts of projects can benefit from them being installed. They are not simply for public car parks but can be of benefit to private landowners and businesses of many kinds. An automated barrier might be used, for example, to allow access to a private track or driveway when vehicles are authorised to pass but prevent unwarranted access from others. Private roads which should only have residents able to enter and leave can equally benefit from their installation. Visitors can be provided with a temporary access code, if needed.
License plate reading technology is another key consideration. If you have a car park where parking is free for a limited period, for instance, then being able to read registration numbers as vehicles enter and leave is essential to managing the service. Automated barriers force cars to stop so that their licenses can be read by this technology properly and prevent drivers from leaving if they have outstayed their welcome. They can also be fully integrated with parking pay machines which take card and cash transactions, too.
Finally, it is worth mentioning that modern automated barriers can be integrated with a traffic flow system which is perfect when barriers are being installed for the purposes of safety. They can allow more cars to pass at times of light traffic and fewer when to do so may be unsafe. All or some of these technologies can be used together to provide the ultimate in access control.
Application


●Shopping Mall
●Office Building
●Residential Community
●Factory
●Gym/Stadium